Class of 2016 Year 11 Awards Evening on Thursday, 1st December
Class of 2016 Year 11 Awards Evening on Thursday, 1st December
21 November 2016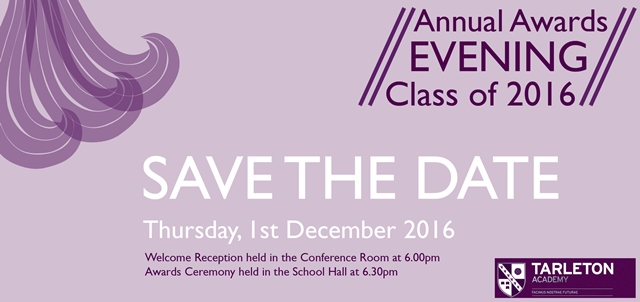 This is a very special evening for students who left Tarleton Academy in July 2016 and their parents. It is a great opportunity to celebrate past achievements, receive your official examination certificates and meet up with other students from your year group.
The evening starts with a welcome reception at 6.00pm in the Conference Room, followed by the Awards Ceremony in the School Hall from 6.30pm.
We would be delighted to see you on the evening. Please confirm your attendance and the numbers attending to awards16@tarletonacademy.org or by contacting the General Office.
The Class of 2015 Awards Evening