District Netball Tournament Reports & Pictures
District Netball Tournament Reports & Pictures
14 March 2017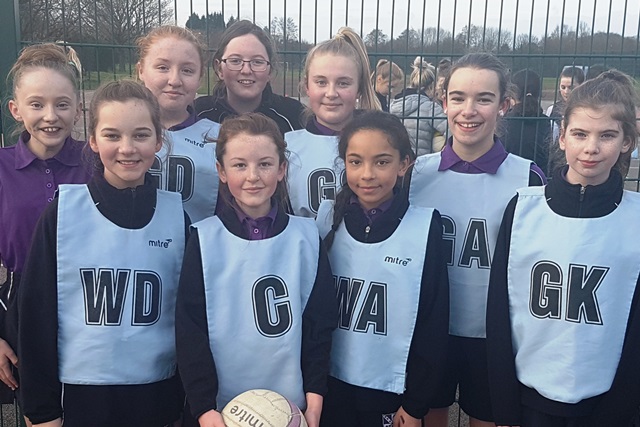 The Year 7 Netball team had a successful time at their first District Netball tournament. They had a great start beating OLQP 6-2 followed by a tough game against Up Holland. They then went on to win their 3rd game against Lathom 4-2 which saw them through to the semi-finals against Ormskirk. It was a brilliant game with a very close score 2-1 just losing on the whistle. The students finished the tournament playing St Bedes who they beat 4-2 placing them 3rd overall. Indy as WA was voted player of the tournament.
Well done to all the team!
Year 8 District Netball Tournament - the team started with a tough match against St Bedes resulting in a draw but they went on to beat OLQP (4-3) and Lathom (6-0). They finished the tournament playing Ormskirk, who displayed a fantastic level of talent, with our team finishing the tournament in 2nd place. All the girls displayed a desire to win and it was difficult to choose a player of the tournament but Natasha (WD) played very well in all the games.
Well done!
The Year 9 team played with determination throughout their District Netball tournament. They won 3 games, drew 1 and lost 1 which placed them 4th overall. Angelica was player of the tournament as GK.
A great performance from the team!
​​​​​​
It was a perfect evening for the Year 10 District Netball tournament. The students enjoyed their games and worked together as a team to play to their strengths.
Lucy as GD was player of the tournament.
​​​​​​
Mrs Leathard said that it was a pleasure to take the Year 11 Netball team to their last District tournament. They started the tournament drawing with Lathom (2-2) and then went on to beat OLQP (4-2) and Up Holland (3-1). With a difficult game against Priory they finished the tournament in 2nd place!
This was a great result and we are very proud of all the students. Emily (GD) and Jade (GK) had an excellent tournament in defence.